Emergency Routes
Emergency reference section for the benefit of all area residents. Please take a look and familiarize yourself the escape routes:
Lomond Terrace Emergency Section
---
French, Scotch or Spanish Broom?
This non-native plant is all over the place.
Read On...
---
Did You Know...
Common etiquette dictates that the auto coming UP the hill has the right of way.
---
E-Mail List
Send in your e-mail address and we will compile a list of residents and keep you up to date on things. We're not spammers or selling anything so your e-mail is safe. We're also not using a web form (which could be exploited) to do this. Simply send in your info via e-mail to: list@benlomond.org.
Fire on Crossbow and Valley View Road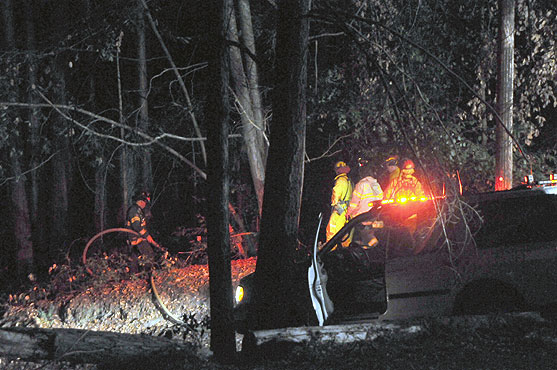 October 29, 2008 8:05 pm
It seems like we keep catching on fire around here. At 8:05 Fire engines arrived on the corner of Valley View Road and Crossbow to put out a brush fire. It was a little unsual since the fire was 15-20 feet from the road. "That sort of makes a calalytic converter backfire or cigarrette an unlikely cause." said a fireman at the scene. Also the fire was almost perfectly round. Some of the firemen speculated that it may have been burning a while, just very slowly. If you have any information on this incident, please contact Lawrence Erickson at Cal Fire: lawrence.erickson@fire.ca.gov or (831) 724-2446.

---
Trabing Fire South Santa Cruz
June 20, 2008 1:58 pm
In what may have been a blaze started intentionally by a motorist heading north on Highway 1, fire broke out from the Airport Boulevard exit all the way to Mar Monte Avenue just before 2 p.m. Paul Van Gerwen, the Cal Fire spokesman, said the fire has burned about 100 acres and is moving north, northeast. "Structures are imminent," Van Gerwen said.
---
Smoke on the Mountain!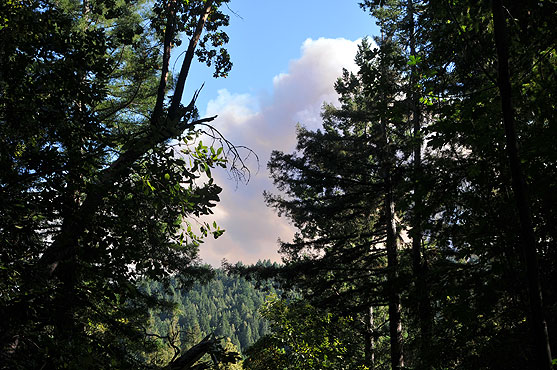 View from the ridge above the end of Valley View on Wednesday June 11. Those aren't clouds. (Photo by AL Luckow)
Martin Fire in Bonny Doon
June 11, 2008 2:54 pm
A fast-moving blaze in the Bonny Doon area, about 10 miles northwest of Santa Cruz, grew to 700 acres after it broke around 3 p.m. Wednesday, and it was only 5 percent contained by the next morning. Mandatory evacuations were ordered for 500 residents in the heavily forested hills. Voluntary evacuations were in place for another 1,000 residents.
Cal-Fire has posted informational boards at three locations in the area for fire evacuees to find out specific information about areas that have burned and the status of their neighborhoods. The locations are:
Safeway Store in Felton
Across the street from the volunteer fire department in Felton on Empire Grade Road
Bonny Doon Airport.
Thursday morning Gov. Arnold Schwarzenegger declared a state of emergency in Santa Cruz County due to the Martin fire.
Resources
Real Time Fire Perimeter Map
To get a real time version of a map of the fire's progress, go to: http://geomac.gov
Then..
Click on "Wildfire Mapping"
Choose "Martin" from the "Jump to Wildfire" drop down in the upper right hand corner.
Choose "zoom in" or "Pan".
---
Ben Lomond Wildlife Series #03

by Kris Hill

Wildlife not so Wild

One of our neighbors on lower end of Park took this of Geo, our cat, before he went missing. It seems that some of the wildlife isn't so wild!

See (or contribute to) our
Online Ben Lomond zoo.
---