---
Awesome Property



One of the most beautiful properties in Lomond Terrace, If not all of Ben Lomond, is for sale! Only 2.3 Million. Yes, right in our own little community. Twenty acres I believe. I went up and saw it during an Open House. It's like being in Aspen. If you can't see it in person, check out the photos
---
Local Businesses
Be sure to check out the residents page to see what local businesses are available right next door!
Newly Added:
Pascale Wowak Photography
and
Tender Touch Therapeutic Massage
and
Jesucita Licona's
Day Care
and
Tarbox Notary Service
---
Emergency Routes
Emergency reference section for the benefit of all area residents. Please take a look and familiarize yourself the escape routes:
Lomond Terrace Emergency Section
---
French, Scotch or Spanish Broom?
This non-native plant is all over the place.
Read On...
---
Did You Know...
Common etiquette dictates that the auto coming UP the hill has the right of way.
---
E-Mail List
Send in your e-mail address and we will compile a list of residents and keep you up to date on things. We're not spammers or selling anything so your e-mail is safe. We're also not using a web form (which could be exploited) to do this. Simply send in your info via e-mail to: list@benlomond.org.
v2
Spring Road Association Meeting

There will be a general meeting of the Road Association on
Thursday May 15, 7:00 P.M.
at the Sheriff station at the intersection of Graham Hill Rd. and Zayante Rd.
We will discuss spending your money on your roads. Please come!
Thanks, Paul Lawton
---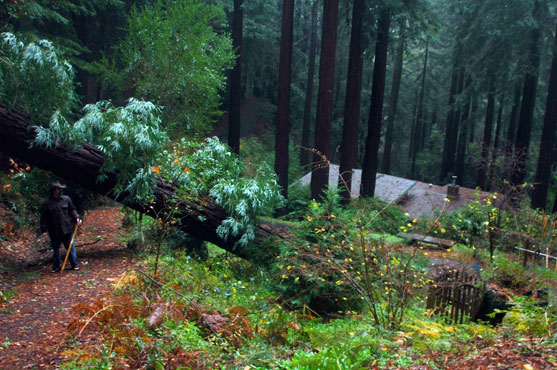 Michael Saunders stands beneath a giant redwood that fell on his property during Friday's gusts. Interestingly it fell uphill. Notice the house below.
Storm of 2008
Power went out on Friday, January 4th around 8:00 am. As of Saturday, 8:00 am it was still off. The Santa Cruz Sentinel has some interesting photos from the storm as well.
---
Generators
I bought a generator on Thursday at All-American Honda. The salesman said they had already sold seven that day and as I was buying mine, he got a call for another one. He said they will probably all be sold before it even starts raining.You can ask ten people about generators and you will get ten answers. In general, you can get a big generator to run your house, or a portable one to run your necessities. Here is what I found:

If you buy a big generator, and run it through your internal house wiring, you need to have a professional install the switchbox and be certain you understand how it works. The disadvantage here is that it is expensive and when you run it through your wiring, you are using all sorts of electricity from "stand-by" items which you don't really need (VCRs, Home electronics, etc.). They use power even when they are off. That translates into using more gas for the generator as well as creating more noise. Generators "rev-up" when you use more power. The advantage of course is you just use your regular house plugs.

If you buy a small generator, you run a power cord into the house and plug into it what you need. That way you can control what you are using, conserve gas and lengthen the time your generator stays on. They are also much less expensive, start effortlessly (if you get the right one) and require no specialized knowledge. You just buy it, fill it with gas and plug into it. The biggest disadvantage is that these things are small and can be easily stolen. Be sure to put in in a safe, outdoor space, adn don't leave it out if you aren't using it.
I bought a 2000 watt Honda EU2000 (43lbs. $1200) Its very quiet, and very small and is designed to create a clean power wave for computers and such. It easily runs my computers and internet router (so I can work) as well as the refrigerator, coffeemaker, and a few various chargers and lights. It could probably do more but that's all I need. From those I spoke with, Honda is the way to go. I'm pretty happy with mine. Seems to run around 10-15 hours on a tank of gas. The EU1000 is also pretty good as well and runs around $800. Units like these can be linked in series if you need more power as long as they are the same model and wattage.
You can get generators much cheaper, I've heard stories of people buying an 8000 watt for $400. But then you have a big engine you need to store somewhere inside when its not being used and run the risk of variable power as well as increased maintenence issues. So ultimately, you get what you pay for. I think if our power went out for weeks at a time, I'd get a big one.
---
Fall 2007 Road Party A Success!
Well we call it a party but it's really a "work" party. Lots of residents showed up to volunteer this time. Volunteering to help clean the road gutters saves the road association thousands of dollars a year. Actually this saves YOU money since it's money from YOUR taxes that are taken out specifically for Lomond Terrace to pay for such things. Instead, now we can use this money to pay for things like patching the road or building curbs, etc. which need to be done by professionals. Volunteering really does make a difference here. Thanks for all those who turned out. Below are just a few you might have seen on the road saving YOU money.



---
Ben Lomond Wildlife Series #03

Wildlife not so Wild

One of our neighbors on lower end of Park took this of Geo, our cat, before he went missing. It seems that some of the wildlife isn't so wild!

See (or contribute to) our
Online Ben Lomond zoo.
---