Photo taken at 5:00PM March 22.

Road Blocked Again!

Another tree came down a day after the big Madrone closed off Park. This time, it's up Valley View a ways and appears to be an Oak. The Power immediately went out to residents above the downed lines (930 Valley View and up). Then at around 9:00 PM, the power went out to residents below as well. The tree completely blocked the road and took out the lines. This time, the residents above have no way to get out until the tree is removed. The only escape route they would have had was the old Coon Heights access road which collapsed during logging a few years ago and was never repaired. Resident Michael Saunders said, "It is interesting to note that we have had upwards of 61 inches of rain in our area." Saunders keeps track of such things with a home gauge. [ more photos here ]
Update: The power was restored in the wee hours of the morning. It was on for a solid few moments before the tree NEXT to the tree you see above fell over. [ This one ]


---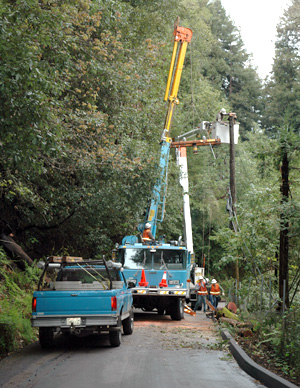 Photo by Al Luckow
Crews work to restore power and clear the road after a large Madrone came down in the early morning hours of March 21, 2004.
[ more photos here ]
Lomond Terrace is Minus One Madrone
March 21, 2005
Area power was out Monday due to a Madrone which fell over Park Avenue and yanked down the power lines. Power was eventually restored around 4:00 PM. Accustomed to such outages, Lomond Terrace was a buzz with generators most of the day.
Longtime resident Heather MacCurdy was one of the first to discover the downed tree. In an e-mail Heather explained, "I went to work this morning at 12:45 a.m. and that tree was down. It was dark and rainy. I was terrified backing up the hill, all the way to the corner since that is the only turnaround. Backing up, my car was putting out so much exhaust the cloud of it blocked my view. I was so shook up I decided I couldn't attempt the alternate route, because I get lost so often using it. I wonder if we can better mark that route somehow." [note: Resident Vicki Leisses later added detour signs, thanks Vicki] Heather added, "I wonder if newer people even KNOW we have an alternate route? "
Indeed, for many residents, this was their first experience with the emergency access road. It was suggested an emergency map along with other safety procedures be produced and made available from this site.
---
Emergency Access Road Used

The access road at then end of Park near Vogler's place was used as the only entrance and exit during the outage. Oddly enough, that access road was recently impassible and unusable. New Road Association President, Joel Tarbox said in a phone interview, "We were all down there clearing that road just two weeks ago and a couple of us even got Poison Oak in the Process. The road was completely overgrown and there was even a tree down blocking it." He then went on to say,"I just want to thank all those volunteers who helped that weekend and most of all, Michael Saunders for having the foresight to organize the work party." Some photos of that cleanup are available online so the before and after can be easily compared. [ Check the photos out here ]