Do you have a story?
Are you aware of some history or do you have photos you would like to share that pertain to our neightborhood?
Contact Me
and we can put something together for this website. I can easily scan photos and have them back to you in a couple of hours.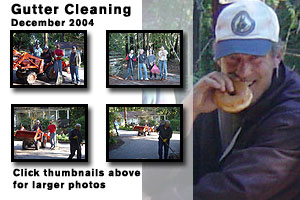 Residents on Park helping with the gutter cleaning.
December 2004 Gutter Cleaning
Lomond Terrace work crews give Valley View Rd and Park Drive gutters a good winter cleaning.
Our little clean up party went off really well. This time we had some refreshments ..donuts ..muffins ...coffee ...chai and tea.... a little story time and some good maintenance work on our roadside culverts and V-ditches. Special thanks to Dan Robinson for running his Kubota Tractor. Thomas Wynn took a few team photos.